Client: Surrey Art Gallery Association
SAGA is a non-profit organization that helps to support the runing of the art gallery in city of Surrey, BC
Date: Sep, 2018 - Dec, 2018
Team: Sofia Bautista, Tabitha Bruins, Sheng Wu
Tools: Sketch, Illustrator, InDesign

Project Brief

This case study explains the concept of openGallery, a digital onboarding experience for business clients who are interested in purchasing or renting art work from Surrey Art Gallery.
Team and Approach

In a duration of four months, me and my three teammates collaborated on researching, brainstorming and building this concept project, where I worked primarily on UX research, product strategy, visual design and art direction.


In order to find a design opportunity that is specific to our client, we used three main methods for our research, namely, ethnographic research, in-depth interviews and participatory workshop.

01. Ethnographic Research:

Collected quantitative data about visitors (amount, gender, age, and social economic status) through observation in the gallery.



02. In-depth Interviews:

Collected qualitative data on member's previous experience with the organization.





03. Participatory Workshop:

Identify and prioritize issues that need design intervention with multiple stakeholders.

Photographs to help us understand the space and how SAGA's gift shop and exhibition area is situated.
Heat map to identify the traffic of visitors and how they move around the space.
Role-playing activity: every team member and stakeholder represents one persona from the journey map and interacts with other personas. The practice helps the design team and stakeholders to be on the same page regarding to existing issues.
Insights and Design Focus

A few main findings through are research are: Lack of funding and staff, only one experienced art curator, paper-based file system, lack of space to physically display art work for rent, ineffective communication.

Finally, we narrated down our design focus to effective communication. We propose a platform where potential clients can view, collect and share art work digitally and book an in-person art viewing session when they are ready.
Design Iterations
More documents relate to wireframes and visual iterations upon request.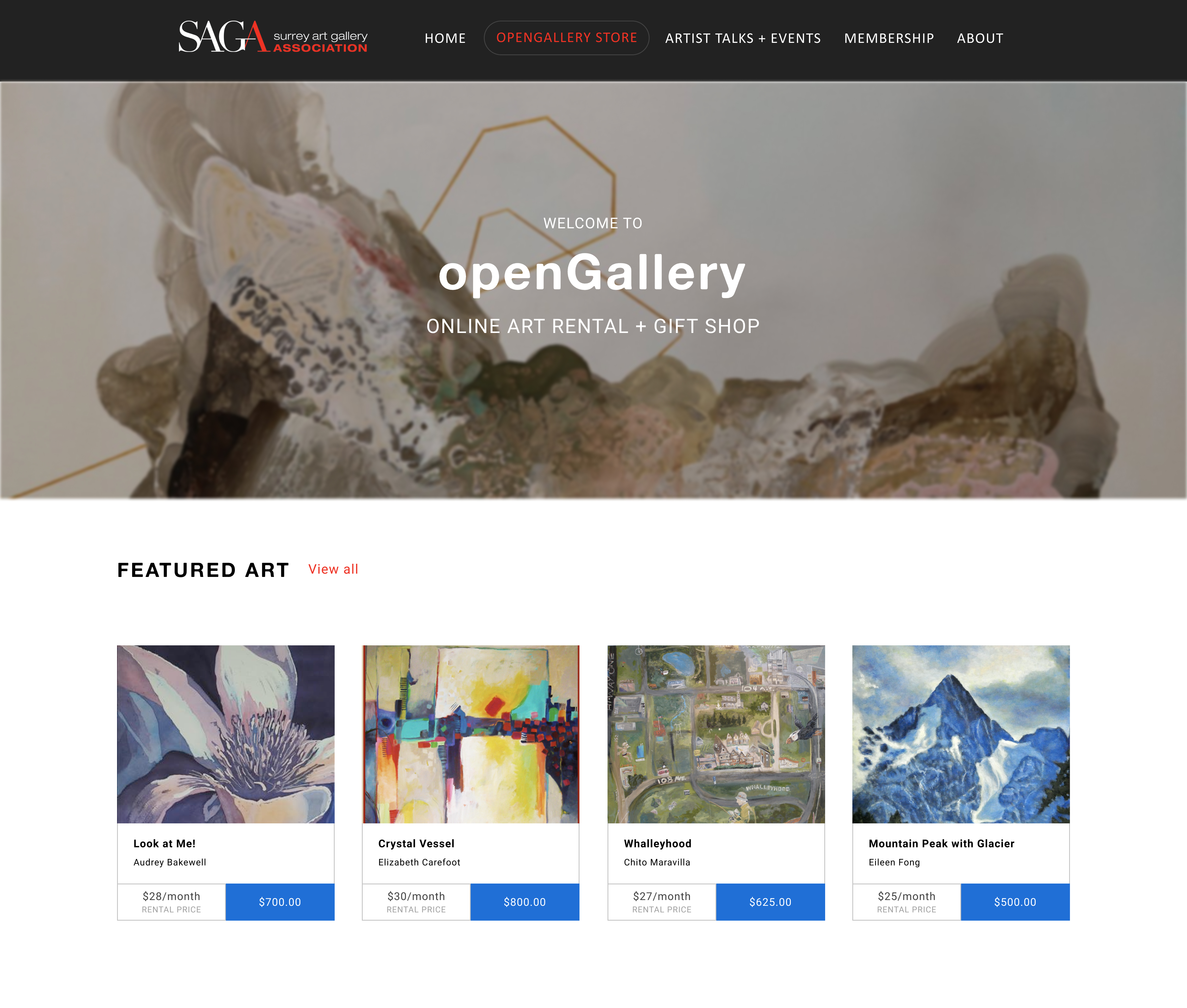 Final Design Proposal & Main Interactions

01. View, Collect and Share Art Work Digitally
02. Sign Up and Book an Appointment
03. In-person Art Viewing and Consulting
Home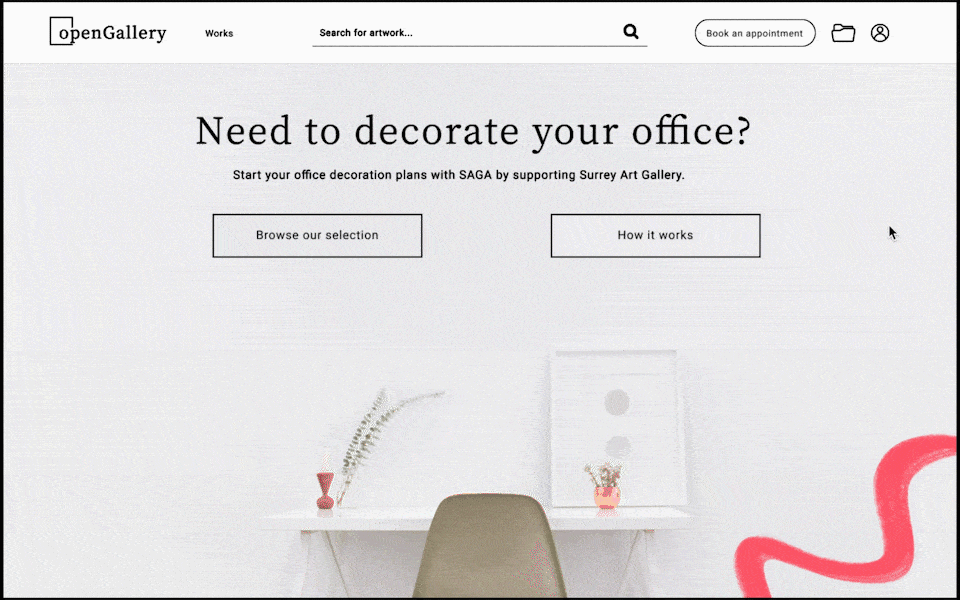 VIEW (1) - Landing
Key Decision:
According to the research, business clients are usually only concerned about two things when they are first in contact with SAGA: 1. how does this work? 2. what's available for rent/buy? Users come to the site with the choice of either viewing the work or learning how the service works.
VIEW (2) - Artwork preview
Key Decision:
Having the work displayed in its original dimension is very important for users to quickly evaluate if this work will fit their space. By simply hovering over, users can view additional information and detailed shot of the work.
VIEW (3) - Artwork details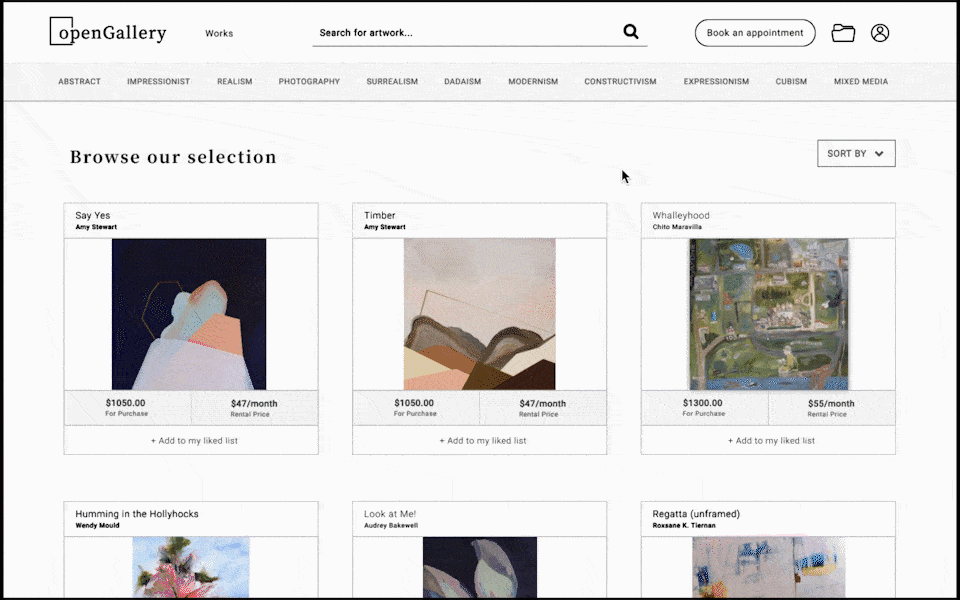 Key Decision:
According to our research, the chances of one art piece get sold or rented out is significantly higher if people are more aware of the background story behind the artwork. User can also click into any work and view more information and learn the stories behind it.
Collect - Identify interested work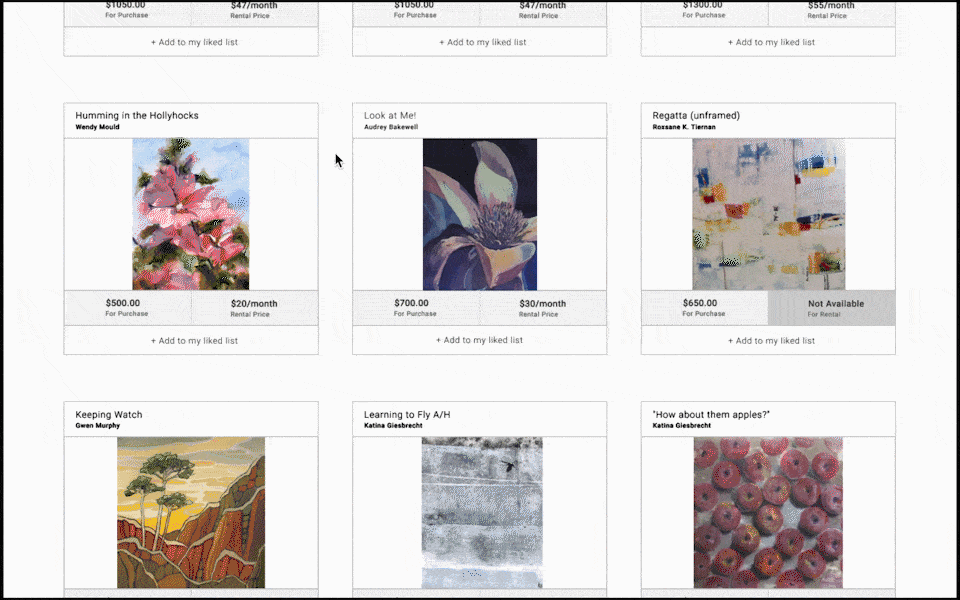 Key Decision:
This interaction allows the users to build a pool of artworks that they can come back to without feeling over-committed. We, at this point, will not force any user to create an account with us. Their selections under "liked list" will remain local.
If users want to save their initial choices, they can put desired work to their liked list by simply clicking on the "+ Add to my liked list" button.
Share (1) - Categorize and narrow down selections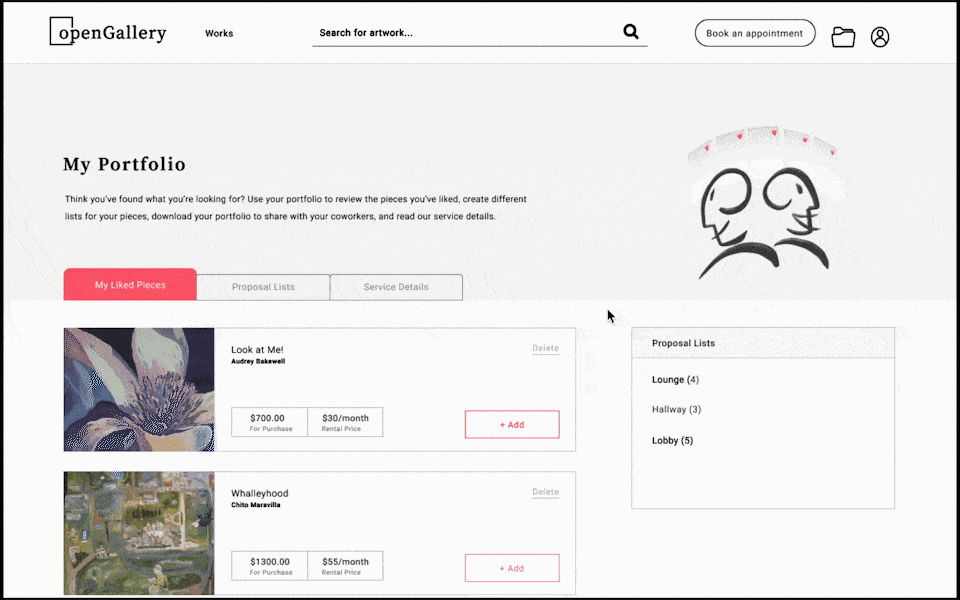 Key Decision:
"My Proposal List" allows the users to categorize their selections and narrow down the ones they want to move forward with.
Users can move their liked piece from "My Liked Pieces" list to my "Proposal Lists" by clicking on the "+Add" button. It allows them to add chosen work to exisiting category.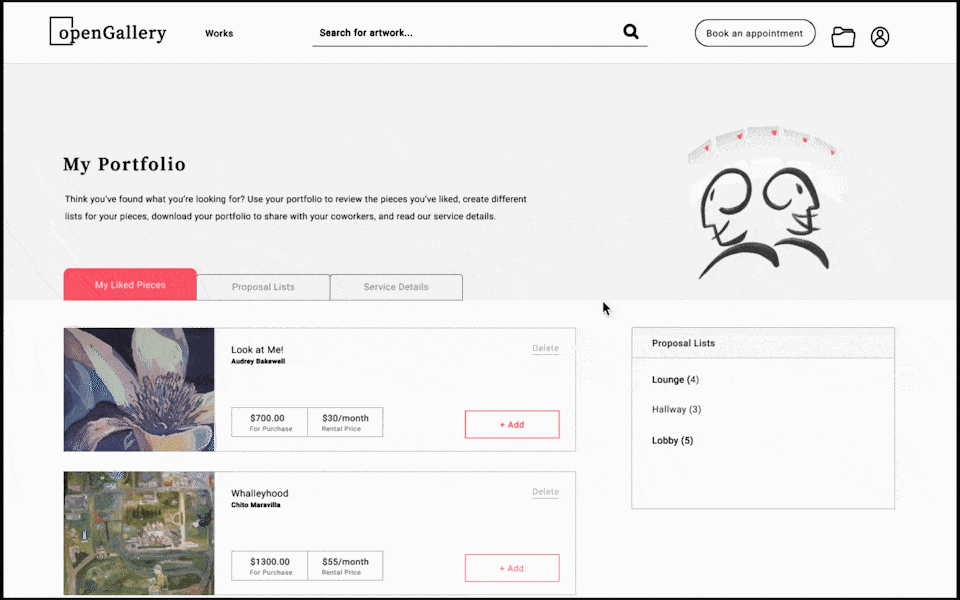 Or they can also create a new category from "+Add"
Share (2) - Share intended selections with others
Key Decision:
"My Proposal List" allows the users to categorize their selections and potentially share their proposed artwork for office decoration to their colleagues, and stakeholders. Users can view the "Proposal Lists" by switching into that tab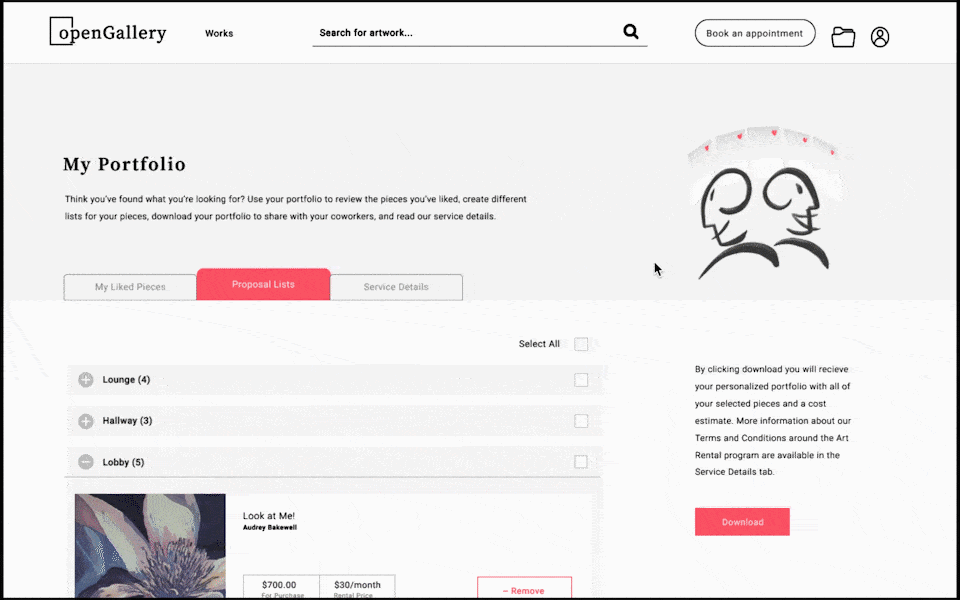 In "Proposal Lists" view, users can select one and more categories to export by selecting categories and hit "Download" button afterwards.
Once the portfolio is created, users can share this with their colleagues and stakeholders to seek for suggestions or approval.
Book an appointment
Key Decision:
5 well-designed questions are asked to start a basic profile, which helps our representative to have a basic understanding about the client and smooth their first contact.
Once the client feel confident enough to move forward with the decoration plan and are able to take some time to view the art works and talk to our representatives in person, they can start booking an appointment with us.
Question 1: do you want to rent or buy artwork?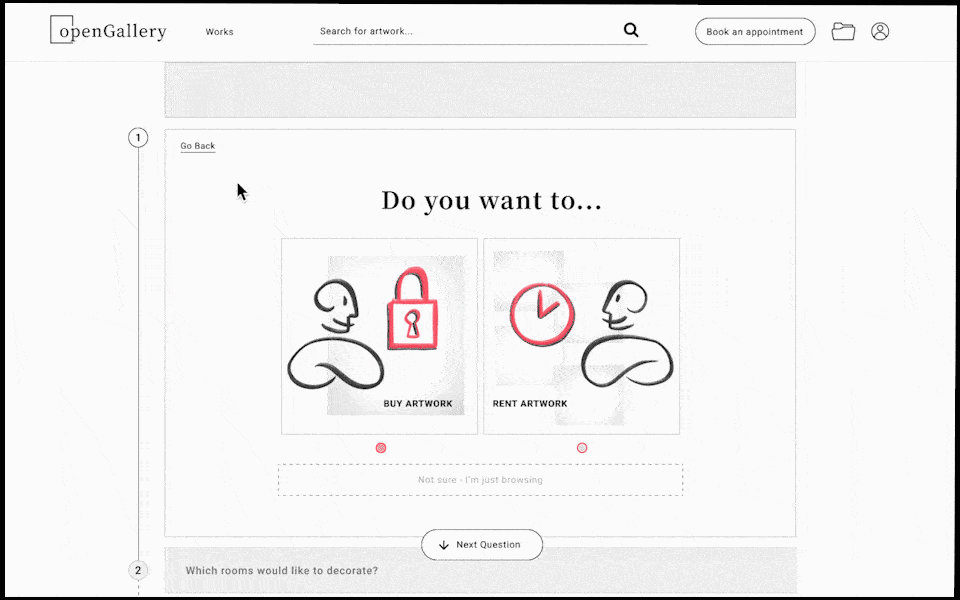 Question 2: What rooms would you like to decorate?
Question 3: What art styles do you like?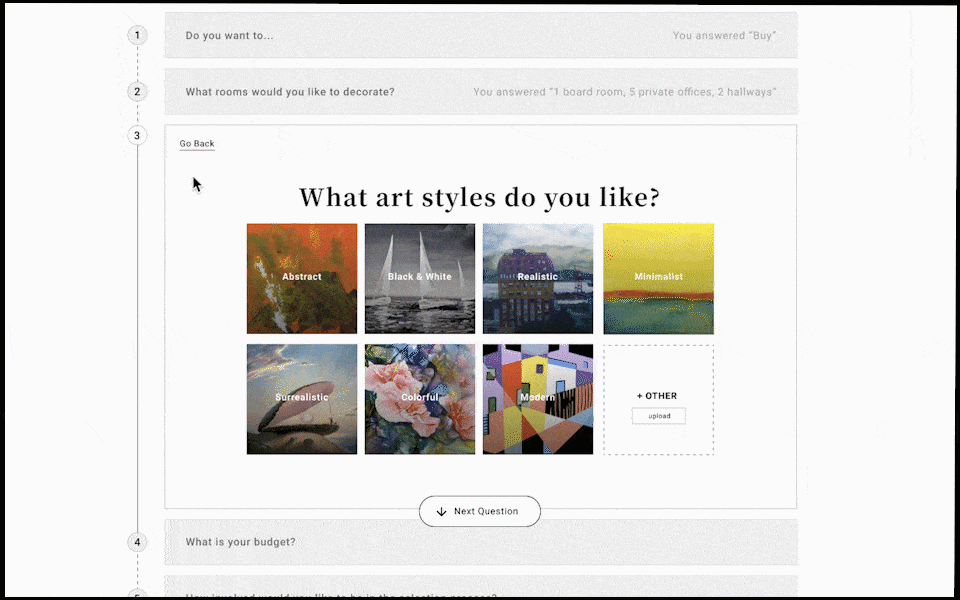 Question 4: what is your budget?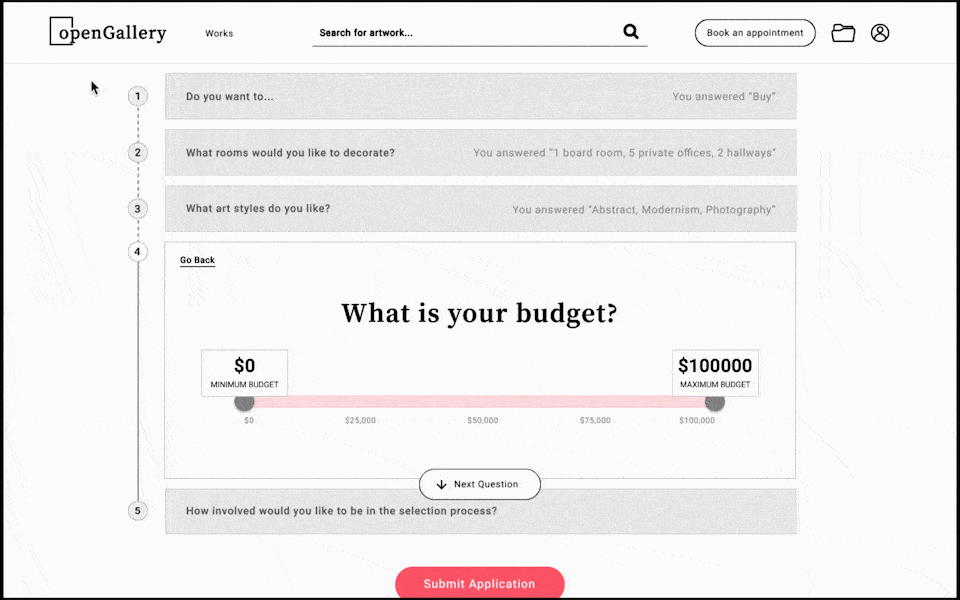 Question 5: How involved would you like to be in the selection process
Finally we will ask them for their conatct infomation and a basic client profile is built.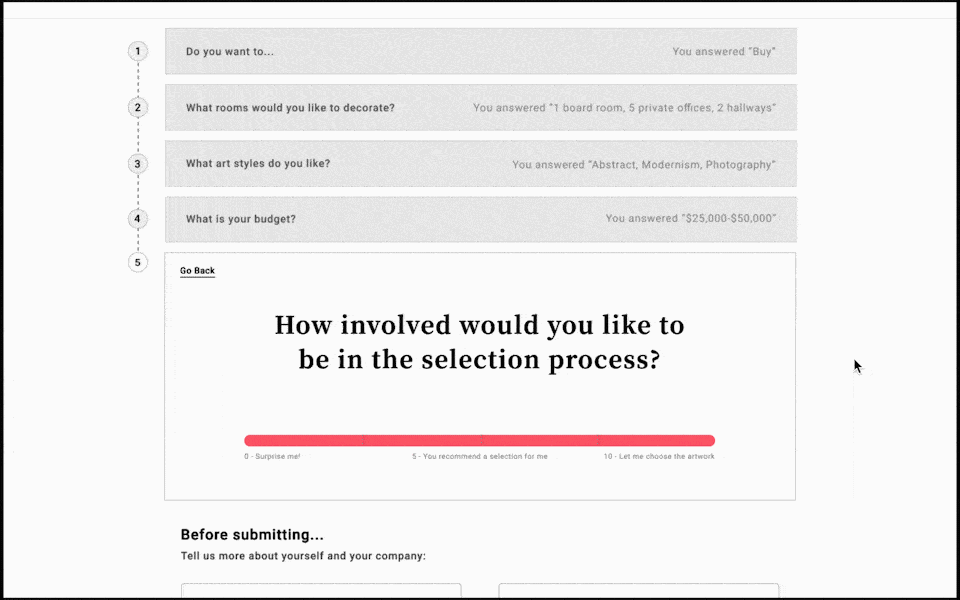 A final confirmation email is sent to the client and our representative will get in contact with them to confirm when, where and what to view.