New feature proposal for Splitwise App: Adding a seperate loan item

Project Brief
Splitwise is a free application that helps to document and manage the expenses shared between friends and families.
For this project, we are challenged to come up with a new feature that broadens the functionality of Splitwise, and at the same time be specific to its identity.

Team and Approach
In a duration of three weeks, I collaborated with my teammate on user interviews, design evaluation and building this feature proposal, where I worked primarily on wireframing, visual design and user research.

Main Steps
01. General Research
02. In-depth Research via Interviews
03. Synthesize and Ideation
04. Final Proposal
01. General Research
Establishing a basic understanding of this app by evaluating its existing features, interaction patterns and visual language.
02. In-depth Research via Interviews

Interviews with both beginner and intermediate users to identify their goals and pain-points in using this App.


03. Synthesize and Ideation
Turning all date into easy- to-digest user goals by creating realistic personas. Starting to ideate new features with both user's goal and company's goal in mind.
04. Final Proposal

Selecting the idea with the most potential. Building the final feature proposal with wireframes, final screens, and complete interaction flow for constructive feedbacks and critiques.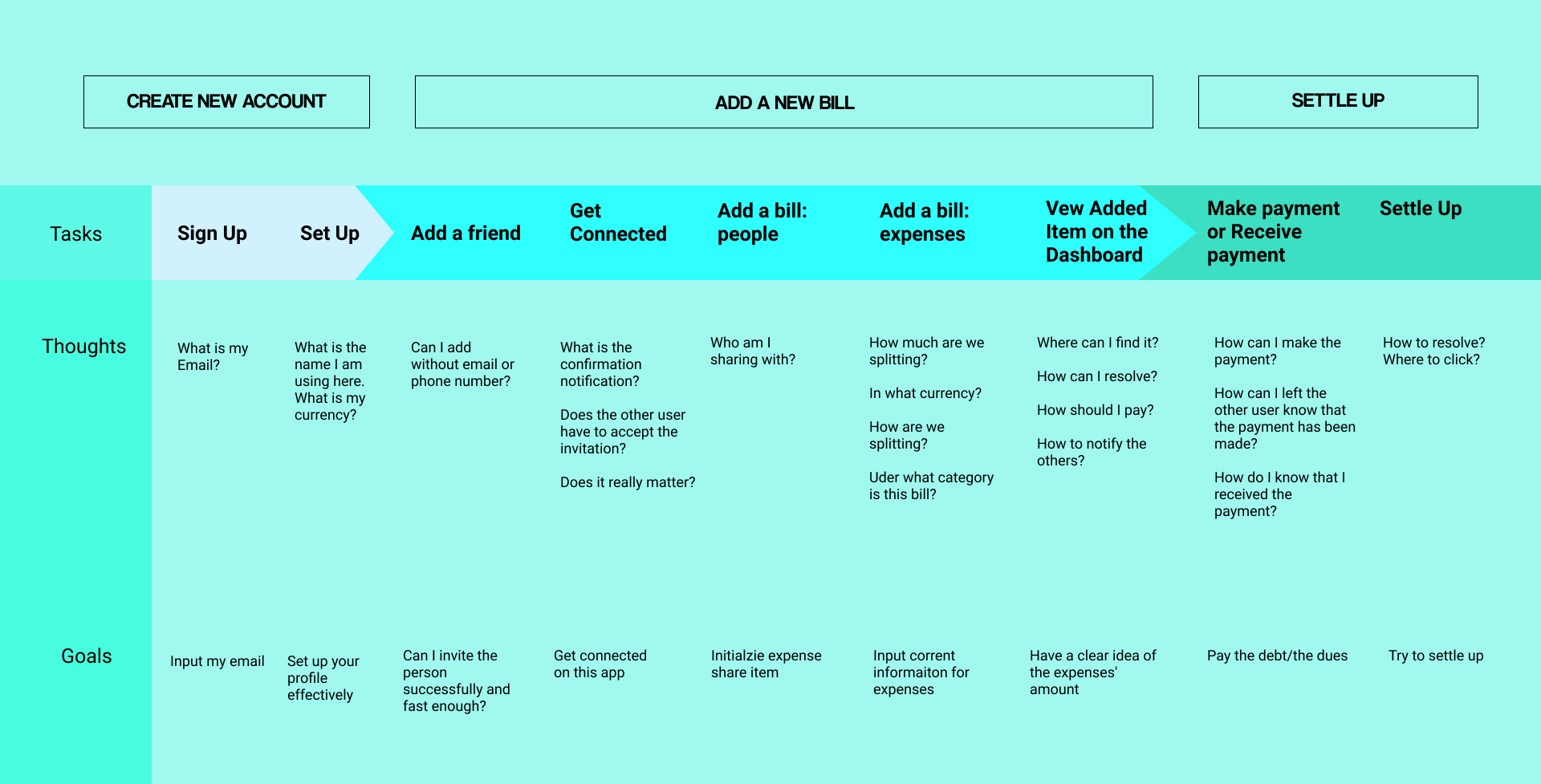 Journey map is a great way to understand existing interactions in a realistic user scenario.
Personas are created through synthesizing research results. They are a great aid to facilitate an effective ideation session.
(Click on the imge to view in full size)
Wireframes for an alternative feature idea (Setting Debt Alert) that we didn't select at the end.
Final Proposal

We eventually decided moving forward with "adding a personal loan" feature. It allows users to add a personal loan as a separate item with the ability to customize the installment plan.


Insights (Why the feature?)
It fits with the core value of Splitwise in its effort to minimalize the personal feeling when sharing money as a resources with friends and families.

Besides being an independent feature, it can also be viewed as an extension to Splitwise's ability in documenting shared cost.



Main Interactions - Wireframes


Main Interactions - Final Screens

Adding a new loan - pay back by set due date




Adding a new loan - pay back by installment plan






View added loan item - as time passes

Acknowledgement
This is an academic project for senior interaction design course at Simon Fraser University. It has no affiliation with Splitwise App.