RESEARCH - Gathering Qualitative and Quantitative Data
One key challenge of this project is to get the right design. SAGA is a volunteer ran non-profit organization, with around 10 members in the board of directors. However, as one of the bigger art curator in the Surrey community for local artists, SAGA deals with a wide range of business clients, artists and volunteers. Due to the shortage of resources and lack of funding, SAGA faces all kinds of challenges from developing a systematic way to recruit volunteers to promoting its brand to the public and earn recognition.
The team was in direct and frequent contact with our client during the research phase in order to identify the problem that is most important to the development of their organization. There are a few methods we used to gather data.
METHOD 01 - Ethnographic Research - Understand the Space

We started this project collecting quantitative data about visitors (amount of visitors, gender, age, and social economic status of visitors) through observation in the gallery. We took a collection of photographs to help us understand the space and how SAGA's gift shop and exhibition area is situated. The team also created a heat map to identify the traffic of visitors and how they move around the space.
METHOD 02 - In-depth Interviews - Understand the People

There are around 10 members in the board of directors. The goal of interview is to gather qualitative data on members' previous experiences working in SAGA and put ourselves into the their shoes to identify those challenges.
For example, in one interview with the volunteer coordinator, we realized their archive file system for artist works are based on old paper documents which made it extremely difficult for new volunteers to access those documents.
METHOD 03 - Participatory Workshop - Understand the Experience
As we learned more about the general information of the organization, the team conducted a participatory workshop with the President, Vice President and one current artist member. Through the role-playing activity, in which everyone represents one persona from the journey map and interacts with other personas, the team and stakeholders were able to come together to identify challenges that are more important and seek for potential opportunities for design intervention.
For example, when business members want to buy/rent art work, they will try to interact with the volunteers in the gift shop, however the volunteers don't have the knowledge to onboard him for the program but only to direct him to art rental coordinator.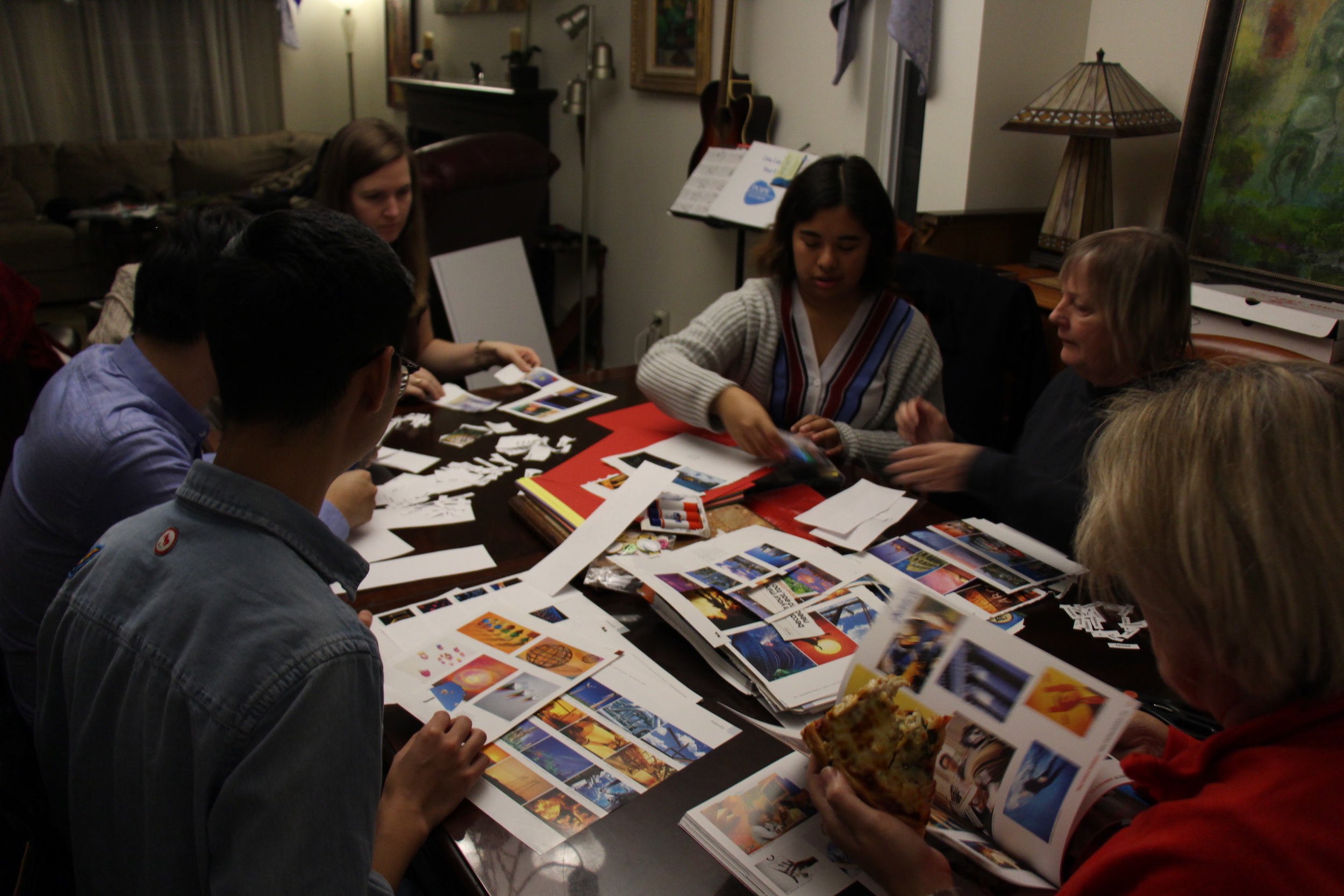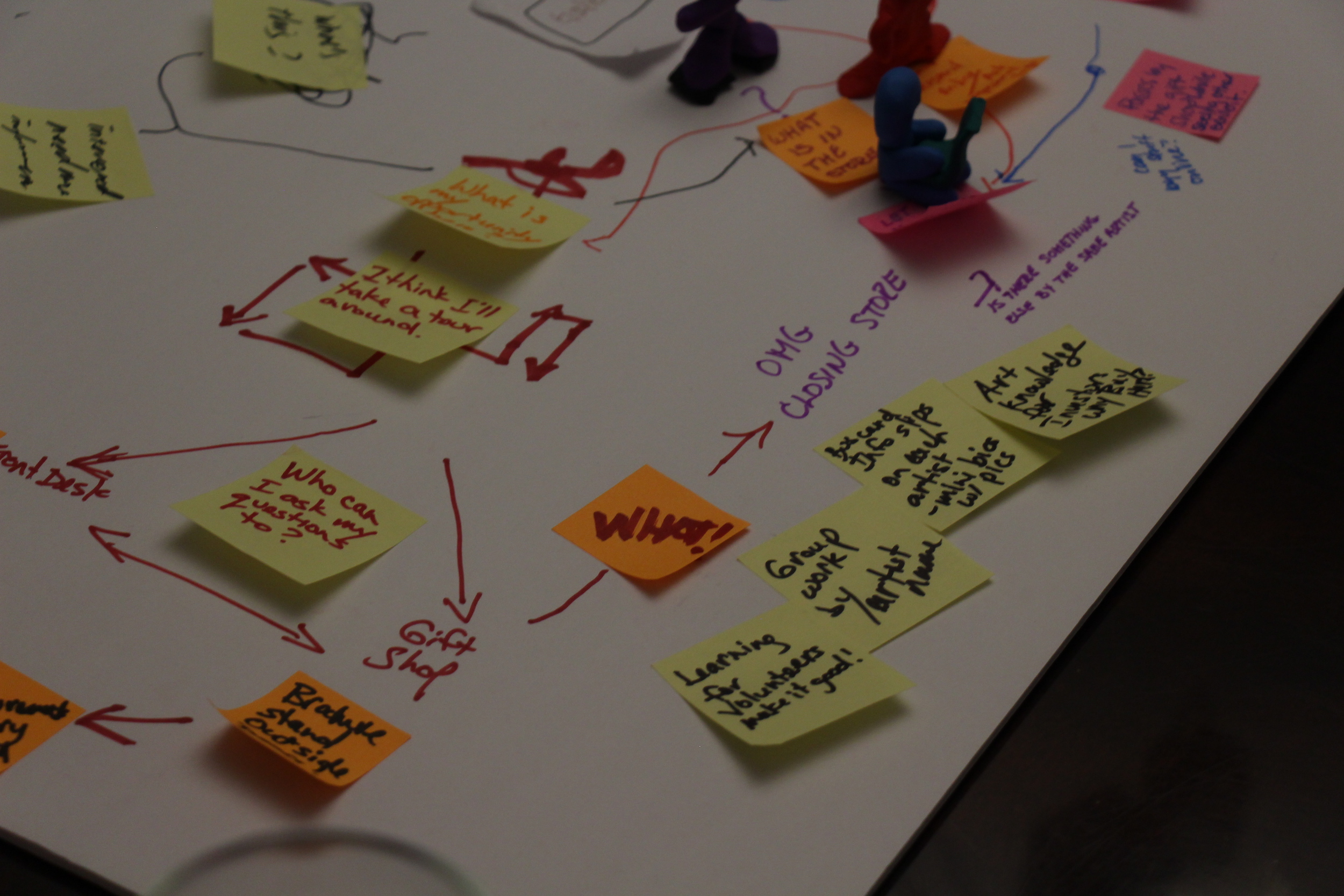 SYNTHESIZE 01 - Explore Initial Design Focus
We first identified three directions as our initial design focus (shown blow). Those focuses are generated based on our initial research of the organization. For example, in their mission statement, they mentioned the goal of fostering a stronger art community within Surrey and becoming a more identifiable representation for art and art education in the community. So both "Identity" and "Education" are catered to fit that goal. While "Communication" acts as a more internal direction that looks into the efficiency of running this organization.
(Click to view full-sized photo)

SYNTHESIZE 02 -
Understand The Complicity of The Issue
The team moved on deciding to pursue communication as our revised design focus as we discovered that both "Identity" and "Education" require more effort in publicity than design. And we were more interested in finding opportunities of improvements that are more specifically catered to SAGA.
The team further dives into understanding the issue by separating "Communication" into two categories: internal and external. At the same time, finding the main personas that are involved in those narratives to identify issues that may be affecting more than one groups. For example, the artists need more guidance on how to promote their work to business owners who are interested in investing. And the business owners need easier access to view and engage with the work before making a decision on which one to choose. The volunteers need more instructions in providing answers to questions asked by both artists and business.
(Click to view full-sized photo)
SYNTHESIZE 03 - Find The Right Area
Finally, after weeks of research, discussion and brainstorming, we narrated down our design intervention to a platform where artists can display their work online while business members can view them and volunteers can help facilitate the communication.
(Click to view full-sized photo)
FINAL DESIGN - openGallery
Finally we proposed the concept of openGallery, a digital platform that displays all SAGA artists' work with information about price, size and availability and allows people to share their bundle of selections with potential stakeholders.

Through only digitalizing the viewing process, we open the door to everyone who is interested in local art, but kept the consulting experience to be in person and private. So business clients who are interested in art rental/purchase will get directed to the platform when they first contact our volunteers and view the work on their own time digitally.

When they are ready to see those pieces in person and move forward with their investment, they will be able to book an appointment online with our representative. And we would already knew some basic information about them and what pieces they want to view through their online profile on the platform.


Concept Journey Map
(Click to view full-sized photo)
Thanks to Joanne Dennis for your tremendous trust and support. Thanks to everyone at Surrey Art Gallery Association for your collaboration and kindness.