Journal (Work in Progress)

Three Things I Learned Doing Photography


Wrote in 2016, minor editing in 2019



The journal was a summary of my photography journey mostly from 2014-2016, in which I used my iPhone 6 as the major device to capture moments that speak to me, and practiced my visual sensibility through the art of photography.


Overview:
I started doing photography back in 2014.

A random enrolment to a second year class opens my door to the world of light and shadow in my first year college in Canada. Since then I was obsessed with the idea of every frame is a painting. I've always knew I am a sucker for good visuals, but I want photography to be more than for me, and it should.



Identify Opportunities
Develop Your Original Vision
Never Compromise


1. IDENTIFY OPPORTUNITIES - Photograph Moving Subject
Moving from city to country, traveling across land and sea, there are wildlife that we run into add unique aspects to our photographs.
When that happens, before being carried away by the excitement, three things should be considered if we want a powerful and unique image.
A. It won't last.
Understanding that the butterfly, the dear, or whatever we are chasing after, could completely disappear in next moment always encourages us to seize the moment! If you pull out the camera, do it fast; If you shoot, shoot a lot, because god knows when this is going to end.
B. Be patient. Anticipate movements & Persist in the chase.
It's hard to have the perfect shoot, especially with uncooperative wildlife. We need to observe the environment of the animals and the movements. For example, in the first photo, I was fascinated by how incredible the flower, the sunshine, and the Chapultepec castle all together is as a perfect set, but feels discouraged because the castle has been here with the same flowers and the same lovely sunshine for ages. "How can I communicate something extraordinary out of the ordinary?" I asked myself.
And that's when the butterfly comes to play.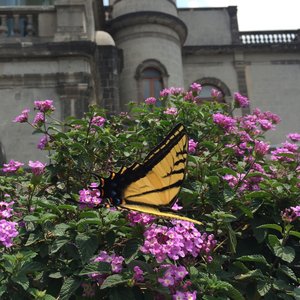 I used the historical castle as the background of the photograph for a sense of location. I will have the flower decorated on top with mild sunlight for a mood of joy. Now, the final parts need to be done are:
To make sure the butterfly is the subject of this image.


To satisfy a photography principle, e.g. 'Rules of Thirds.


To minimize visual distractions from bustling tourists.
After observing its movements and understood that the butterfly is not going to leave those flowers soon, I kept chasing without any second thoughts. Finally, after half-an-hour of running, it landed on the proper spot. I fired the camera trigger and went for it. The rest was history.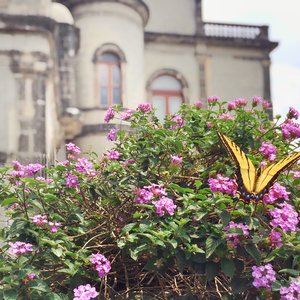 The same story with the deer.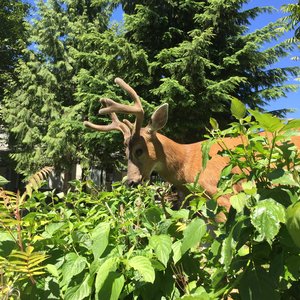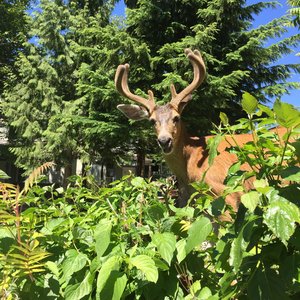 However, the deer was easily scared away. I was lucky. The animal was eating. I was able to get so up close.
C. Do not expect too much and know the time to stop.
The worst is becoming caught in the competition. You lose the fun of doing it. If an object is far away from the ideal background, then it should be the time to say, "Goodbye," and move on with your life.
For example, the same old lizard in both shoots. The left tells a convincing story while the right says, "Mom, I see a lizard, so cool!"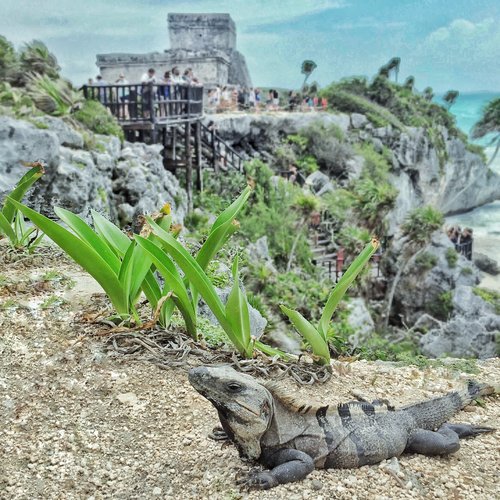 ALL photos shown are taken and edited with iPhone 6*
2. IDENTIFY OPPORTUNITIES - Photograph Scene
Compared to moving objects, the opportunity to create a good scene is easier because the view is there, whether we find the angle or not for a good photograph. However, there are things to keep in mind if our goal is to create a powerful and convincing image.
First, I want to talk about the Chichen Itza, Mexico photograph. Even if you type "Chichen Itza" into Google images now, you will see similar images (shown above), but nothing like this.
It is interesting to note that the plant is in the front while the architecture seems to lay back, but it hasn't stolen the spotlight on the main subject (the architecture). Instead, it leads viewers' attention from the front to the back through this invisible visual leading line (as shown). Also, this work requires extreme patience because no one in the world controls the excited tourists in the grass area.
*All the failed attempts are there for the same reason: the plant is NOT supposed to be THE SUBJECT.*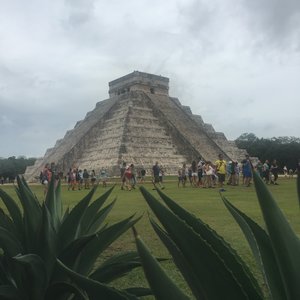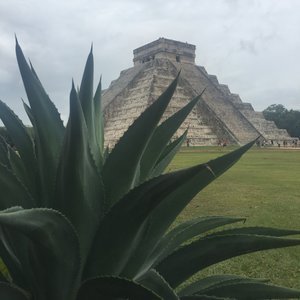 The same with this one.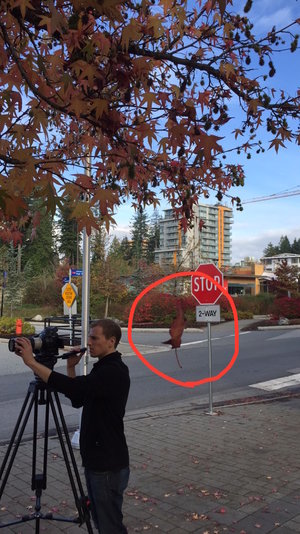 One leaf held, loosely, by two abandoned spider webs. In this scene, the difference is the leaf deserves to be the subject of interest while the campus is the background.
3. DEVELOP YOUR OWN VISION
You need to develop personal vision, your vision. It can be tricky because it's 'easier said than done' from personal experience. It requires practice, awareness, and mindfulness. You need to pay close attention to the world. The craft is the way for me to accomplish it.
I will use this example to briefly illustrate how it feels when a visions comes to you; like all those great artists have talked about.
I did this photo the first year I started as a photographer. Come on, everybody wants a levitation photo of themselves when they first started.
It was not an pleasant experience.
I basically have to remove all the bed stuff in order to place my chair on top of the bed. Then I need to get myself laying across the chair using only my undeveloped core muscle and appear to be relaxed and effortless at the same time. As you may see in this photo, my right hand is always closed. That's because I have a remoter in my hand that helps me to remotely control the camera and take shoots.
Yes, if you guessed that these are done by me (ALONE) in my tiny dorm, then you are correct.
It was three hours of shooting, two hours of preparation, and five total hours of hard work. I was not happy with result AT ALL.
It's very generic. I hated it.
Let's fast forward to two years later, I was visiting Mexico. The moment I stood upon this architecture in Coba, the beauty and naturalness wiped out all of the sweat and tears while climbing up. Literally, it took my breath away. I've never seen anything close this. The never-ending forest rolling out in front of you. It ends in a splash in the sky, like ocean waves crashing on the rock. A 'punch' of dark green meets the soft tender blue. There was nothing better.
Then, I took a photo.
It's very generic. I hated it.
"I will never be able to do the justice for this scene." I thought, "No one would understand one percent of how I feel while standing there through my images."
But I was wrong.
I continued to think about it. Why? It keeps challenging me. I don't understand what's the difficulty in communicating this scene. I don't know what exactly needs to be done to deliver this idea.
After I went back from Mexico and started doing more editing on my photos, one night, this vision comes to me. I dreamed myself drafting among the clouds, floating on top of the forest that I felt so inspired by. The next thing I could remember after waking up that morning is working straight for five hours without eating breakfast and get this vision delivered. It was my first time experience something so magical about photography.
This work is a combination of the two most disappointing pieces of my short two-year photography experience. However, it now represents most of me and my vision.
I kept believe every step we took in life will always come back to us again,
in the most unexpected way,
good or bad.
4: NEVER COMPROMISE
It was a hot Chinese summer: humid, sticky, and cheap.
Out of shower for the third time, because that's the only way to keep my mind clean. I picked up my empty Lush Shampoo bottle (not sponsored, but Lush if you are reading, come on, hit me up ;)), filled up with water, washed it in and out, and ended with this unbelievable, almost perfect geometric shape.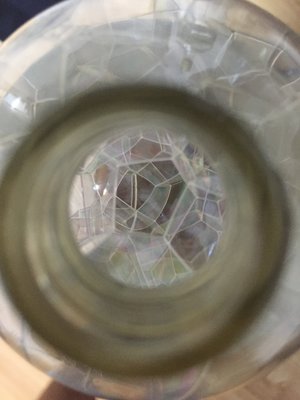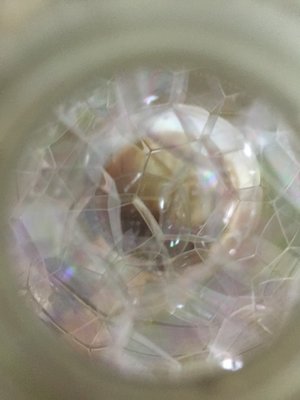 Next, I took the opportunity.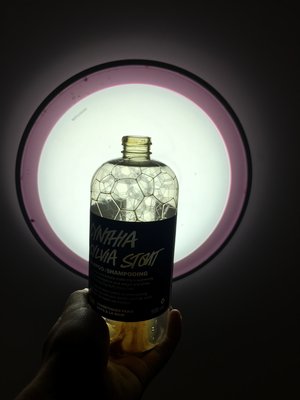 It was decent, but not perfect.
The composition is good, but the lighting is not perfect.
The bubble is alright, but the colour is not perfect.
I took it in-and-out several editing apps on the iPhone. Finally, I find this clean colour tone.
Next, I blurred away the outer circle, which appears to be a visual distraction and creates one mild luminance.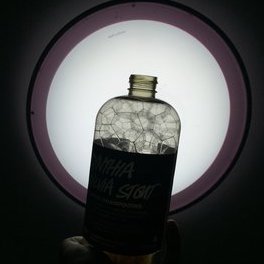 ALL photos shown are taken and edited with iPhone 6*
However, even if this image is good enough as an iPhonePhotography work, its still not quite what I want it to be. My goal is to bring an interesting story out to life through this shoot. After being reminded of moonshine by the colour, I took the chance and spent another hour on customizing every crow, and the angle of their wings to add additional dynamic into the shoot. Now, it looks like a crow party in a dark lonely night.
I could have stopped at any step. However, the idea of not compromising and finding opportunities to make better decisions excites me. It provides good results in the end, always.